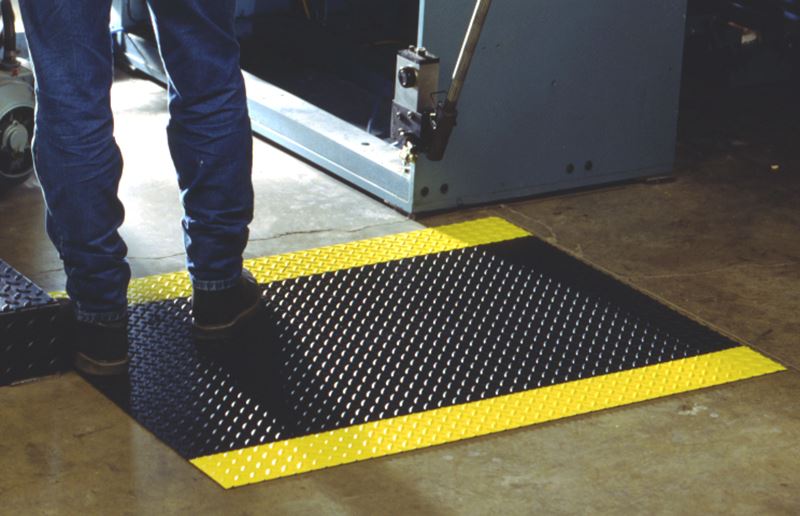 Workers need quality matting options to provide comfort and safety in the workplace. The Diamond Dek Sponge Mat line is great for people who need a heavy-duty matting that provides sure footing, reduces fatigue, and resists common oils, alkalides, and acids.
Each Diamond Dek Sponge mat features a special diamond thread surface for traction. From there, the Diamond Dek product you choose can depend on what you need from your mat. Here are five different Diamond Dek Sponge Mat options and how they can help you.
Diamond Dek Sponge Mats
The Diamond Dek Sponge Mat is a tried and true flooring option. This bonded two-layer floor mat is made with industrial grade foam, beveled edges, and colored safety borders to help support workers.
Diamond Dek Sponge HD Mats
The Diamond Dek Sponge HD Mat is an even thicker version of our main product. This heavy duty option is great for spaces that need a heavier, thicker option for employees.
Diamond Dek Sponge HV Mats
If floor visibility is a must, Durable's exclusive Diamond Dekker Sponge HV Mat is the way to go. The high visibility yellow color makes sure that workers can easily spot the mat in work spaces, helping them avoid dangerous slips and other accidents.
Diamond Dek Sponge Supreme Mats
The Diamond Dek Sponge Supreme Mat combines the diamond thread surface with a heavy grade PVC sponge base to provide extra cushion for workers that stand for long periods of time. Extra cushion means extra support for people worried about pressure on their feet or fatigue.
Conductive Diamond Dek Sponge Mats
The Conductive Diamond Dek Sponge Mat is great for workplaces with electronic equipment. This mat is made with an insert for grounding cords to help prevent static accumulation that can cause damaging sparks and surges.
Quality Sponge Mats for All Environments
Whether you need a sponge mat that can reduce static or keep your legs fresh, Durable has the products for you. Contact Durable online or log in to your customer account to order Diamond Dek Sponge mats for your business today.