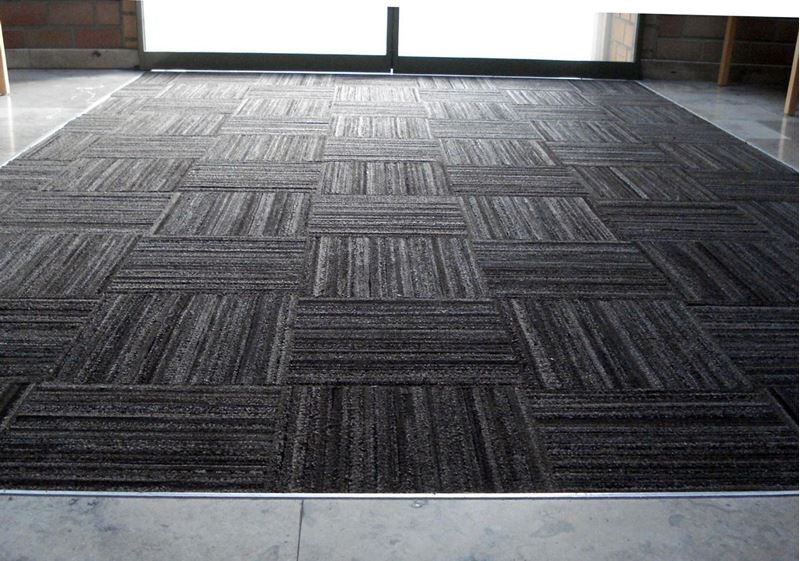 A floor is more than just a place to stand. It's the foundation of any home or business and plays a key part for the look and feel of a space. Of course, that can go both ways.
Attractive flooring can add to the appeal of a room or space. Dingy, dirty floors can make a place feel, well, dingy and dirty. Fortunately, Dura-Tile II Entrance Tile keeps your floors safe and clean while adding to the aesthetic appeal of your space.
Combine Look and Function with Dura Tile II Entrance Tile
You spend a lot on your flooring. Regular foot traffic will drag in dirt, moisture, and debris that will turn a beautiful floor into a mess in no time. Dura-Tile II Entrance Tile provides an aggressive barrier before a step is placed on your flooring removing all the dirt, moisture, and debris while remaining attractive and functional for years.
Dura Tile II is made from recycled bus and truck tires manufactured into rubberized fabric strips that looks like carpet with unmatched durability. Maintained is easy just vacuum or hose for years of dependability.
Carpet Mat Options
In addition to Dura-Tile II, you can also choose from Designer Dura-Tile II and Dura-Tile II Colors. Designer Dura-Tile II comes in triangles to form an attractive pattern and can be combined with other Dura-Tiles for custom layouts. Dura-Tile II Colors adds a blast of color to our standard earth tone color to match any décor.
If you want to pair appearance, durability and functionality Dura-Tile II is for you. Contact Durable today to learn more about our full line of Entrance and Carpet Matting. Approved dealers and buyers can even log in online to order matting products right on our site.