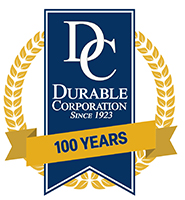 FOR IMMEDIATE RELEASE
2/28/2023
Contact:
Thomas Secor, President
Phone – (419) 668-8138
Email address – tsecor@durablecorp.com
Norwalk, OH – Local small business, Durable Corporation is celebrating 100 years of being in business this year. Durable Corp employs 43 people and manufactures a wide array of products from used bias-ply tires, making them a long-time steward for the community and the environment.
"To survive 100 years most definitely requires a group of dedicated individuals - our employees go above and beyond every day," stated Durable Corp President Tom Secor. "Most importantly, we've had the right individuals at the right times of our journey. Our focus 100 years ago was to premium quality products with exceptional customer service, and that remains our top priority today."
Among the products Durable Corp makes: Tire-Link mats, fenders, riffles, laminated loading dock bumpers, wheel chocks, street pads, and Dura-Tile flooring. Along the way, Durable also became a master distributor of complementary items such as molded loading dock bumpers, molded wheel chocks, and a variety of matting products.
On Jan. 25, 1923, P.J. Swanson and Chas T. Lyons received approval from the State of Washington for their Articles of Incorporation and started Tire Mat and Bi-Products Company Incorporated. Swanson had the first patent for a tire link mat and subsequent patents for product and machinery. Unfortunately, by June of 1923 the company was not doing well and found itself in receivership.
One year later, thanks to Lyons and some critical business relationships, a new company was formed – the Durable Mat Company Incorporated. Throughout the years, the company would grow, acquire other companies, build manufacturing plants in Ohio and California, and weather the Great Depression and other economic ups and downs.
Today, Durable operates out of a single 98,000 sq. ft. facility on 11 acres in Norwalk, Ohio, where they still manufacture 100 percent of their laminated loading dock bumpers, making them the largest laminated loading dock bumper manufacturer in the U.S.
"I want to thank all of our customers and suppliers throughout the past 100 years, without you we wouldn't be here," stated Secor. "You have made our American dream a reality."
About Durable Corp

Durable is an innovative manufacturer of loading dock bumpers, safety mats, and other quality products capable of meeting the specific needs of a diverse customer base. Read more about Durable's history: https://www.durablecorp.com/durable-corporation-celebrating-100-years