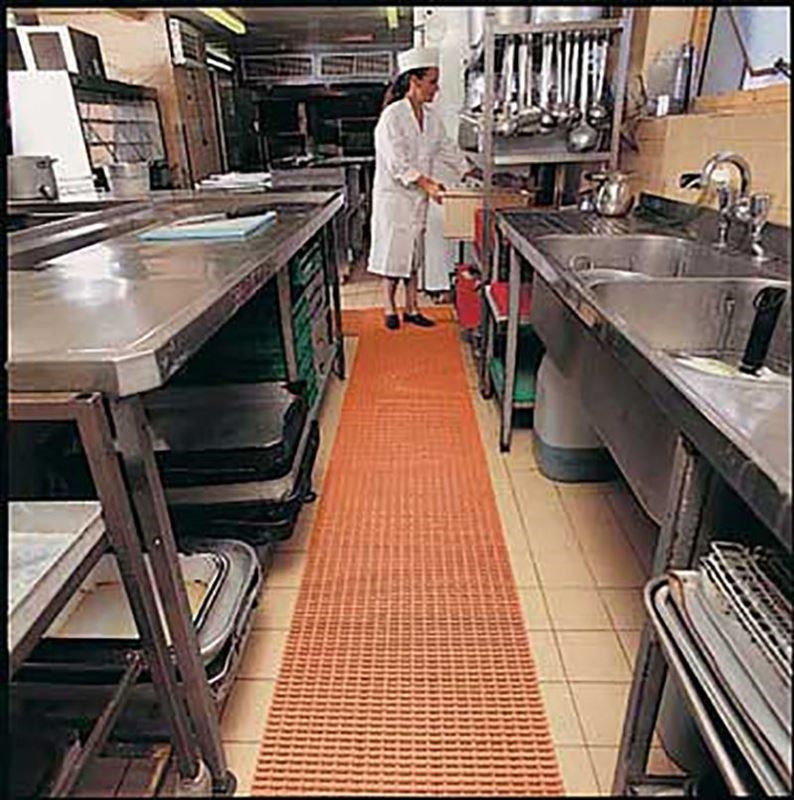 A food service space without a good floor mat can be a recipe for disaster. Kitchens, bars, and other food service environments are no strangers to slick floors, leading OSHA to name slips and falls as a major hazard in the workplace.
An investment into quality wet area matting can help food service workers move around without fear of slipping while providing other benefits. The trick is that you can't just buy any old floor mat. Matting products come in a variety of styles, with some being better for the food service industry than others. Here's a quick guide that will help you understand how floor mats can help the food service industry and choose the right ones for your business.
Why Food Services Spaces Need Floor Mats
A good floor mat can provide several important benefits in the food service industry. These include:
• Workplace safety
• Cleanliness
• Comfort
Due to the nature of the food service industry, there's a good chance that your floors will get slippery at some point. Between spills, cleaning, and other watery occurrences, wet floors pose a serious threat for employees while they work. Wet area mats allow water and other slippery substances to drain through to the floor so that employees can walk on dry matting with plenty of traction.
Of course, all those slippery substances need to be cleaned up eventually. Food service floor mats are designed to make cleaning faster and easier. Food service floor mats are light enough to be picked up when it's time to clean so that workers can mop and wash up underneath them. These mats are also made to hold up to substances that would weaken standard mats. This means that food substances like animal fat or harsh chemicals found in cleaning solutions won't eat away at your mats, allowing them to provide the protection and support your workers need for years.
Another major benefit of food service mats is that they provide ample support for workers. It only takes 90 seconds of standing for employees to feel fatigue, while long periods of standing on hard surfaces can lead to serious health issues like back pain, joint stiffness, and more. Anti-fatigue mats give workers the cushion they need to feel great and stay effective throughout the day.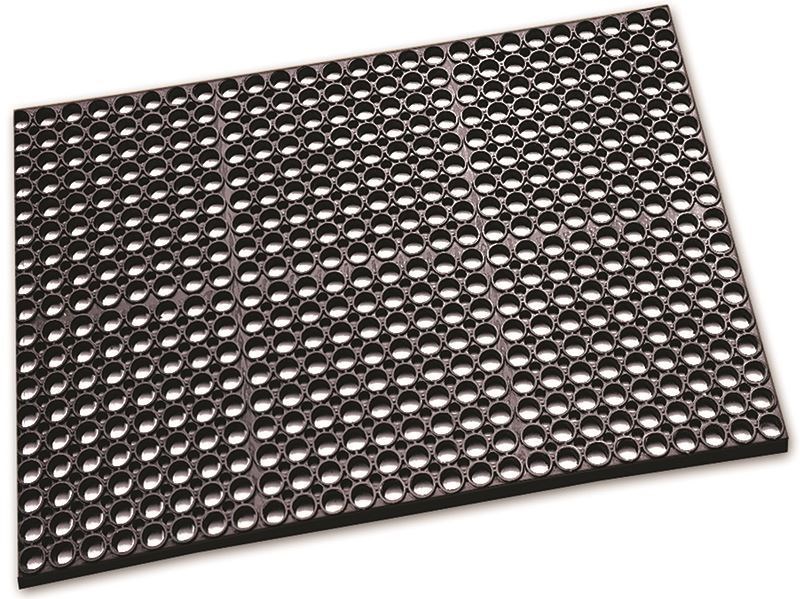 Mat Recommendations for Food Service Spaces
An understanding of how floor mats can help your spaces is great. Choosing the right matting products is even better.
• Workstation Plus – A wet area, lightweight rubber mat with built-in beveled edges.
• Kitchen Grid – A slip-resistant anti-fatigue with an open surface that allows for drainage of waste by-products in the food processing industry.
• Workmaster – A general purpose rubber mat that provides excellent drainage in wet areas.
• Workflow Plus – A lightweight anti-fatigue mat made from a 100% nitrile grease-proof compound.
• Sof Spun 5/8" – A thick sponge mat that is ideal for use behind bars and check-out areas.
• Workstation Light – An economical, lighter weight general purpose mat with beveled edges.
The right food service mats can provide your staff with ample support and traction to improve your work areas. Durable supplies businesses with a variety of quality food service matting that can protect your environments. Register for an official Durable account for 24/7 access to our company and to order food service floor mats online.