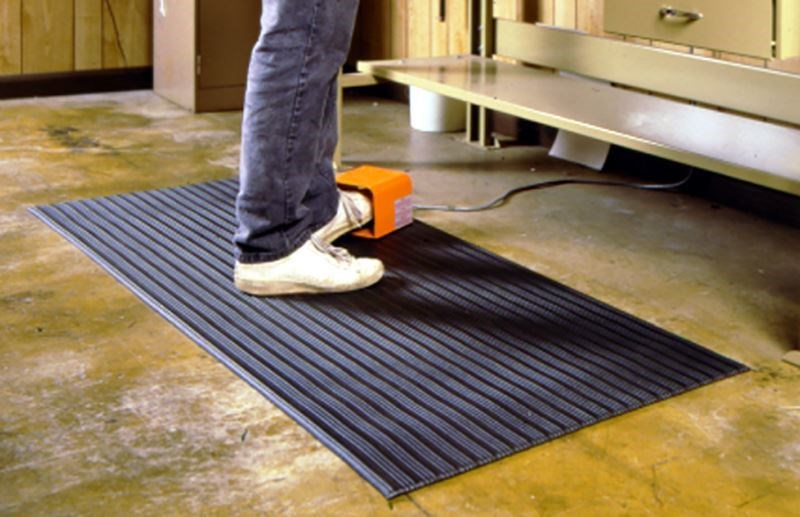 A good manufacturing facility or any other industrial environment should protect their investments. Quality floor mats can help you protect some of your most valuable assets: your employees, your equipment, and the very floors that support your business.
Not just any floor mat will work, though. Industrial environments require a tougher protection, something durable enough to hold up over time and provide the layer of support between a cold, hard floor and your workers. These facilities can also vary in what types of mats they need depending on their floor layout, types of equipment, and other factors.
Each of these details can change exactly which style of mat you should buy, so here's a quick good to help you choose the right floor mats for your industrial spaces.
Why Industrial Spaces Need Floor Mats
There are four major ways that floor mats can improve an industrial facility.
• Comfort
• Workplace safety
• Anti-static
• Floor protection
Employees in manufacturing and industrial environments generally work on their feet for long periods at a time. These prolonged periods of standing can lead to fatigue, bad posture, and even serious health issues over time. Durable anti-fatigue mats designed for industrial spaces provide workers with enough cushion to reduce the amount of stress put on their body over time.
In addition to making industrial spaces more comfortable for employees, there are matting products that can improve workplace safety. According to the National Floor Safety Institute, "85 percent of worker's compensation claims are attributed to employees slipping on slick floors." The use of high-visibility floor mats can help employees identify areas where extra caution is needed, while anti-slip surfaces and tape provide an extra level of traction to keep workers on their feet. Wet area mats can also be designed to allow slippery substances to drain through the mat, making it easy for employees to walk around the work area.
Industrial floor mats can protect more than just people. The presence of electrical equipment and products is common in many industrial facilities. Electrostatic discharge can cause billions of dollars in losses each year, so anti-static mats are used to reduce the risk of any electrical surges that could damage any sensitive equipment or manufactured materials.
Of course, the floor itself needs some protection as well. Nobody wins when heavy equipment hits the floor. The impact can damage both the equipment and the floor itself. A heavy-duty floor mat can serve as a protective layer between the floor and everything else, shielding it from problematic cracks and scuffs that can lead to bigger issues over time.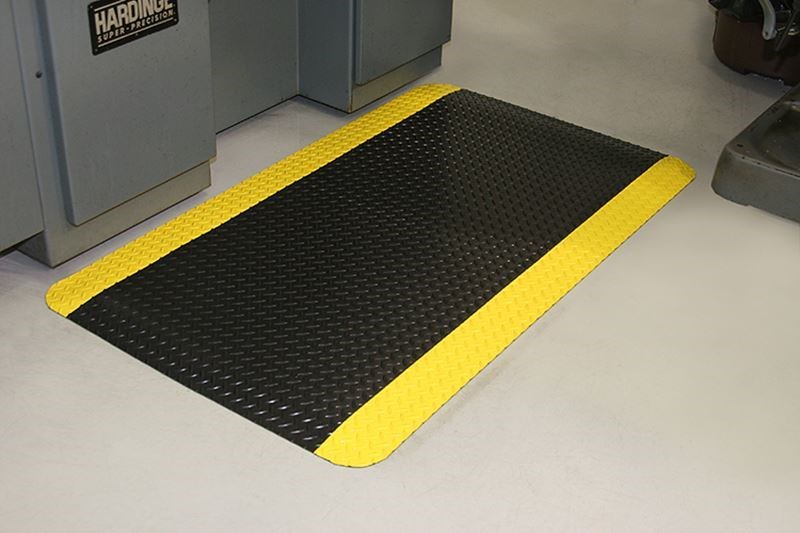 Mat Recommendations for Industrial Spaces
Now that you know exactly how mats can protect your industrial spaces, it's time to choose the perfect floor protection products for your business. Of course, that can be tricky without a little guidance. Here are six top floor mat products for industrial spaces:
• Diamond Dek Sponge – A versatile heavy-duty mat featuring Diamond tread for sure footing.
• Sof Spun 3/8" – A sponge vinyl corrugated surface that is ideal for use at workstations and assembly lines in factories and warehouses.
• Workstation – An interlocking wet area mat with a non-skid surface that is ideal for large areas.
• RxMat – The toughest, most durable rubber mat made today. Features an interlocking design that's perfect for large areas.
• Corrugated Rubber 1/8" – A fine-rib corrugated surface that adds traction and captures moisture and dirt.
• Conductive Diamond Dek Sponge – A Diamond-pattern mat that prevents the accumulation of static to protect electronic equipment form sparks and surges.
Some well-placed mats can make a big difference for industrial facilities. Durable can supply your business with quality matting products designed to improve the comfort and safety of industrial spaces. Register for an official Durable account for 24/7 access to our company and to order industrial floor mats online.