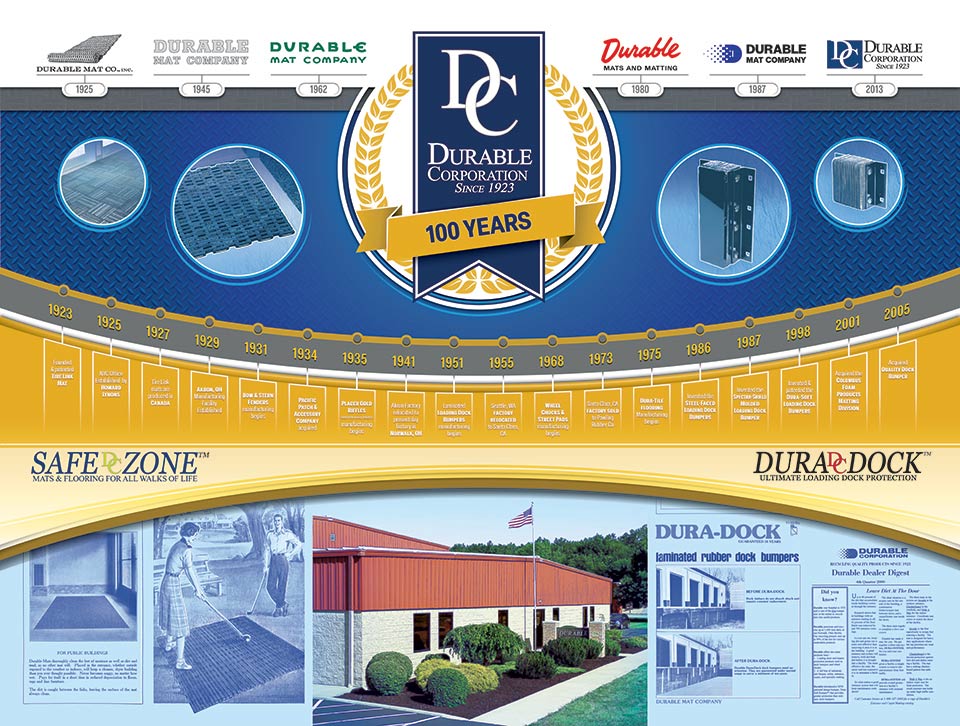 On January 25, 1923, the State of Washington acknowledged the receipt of the Articles of Incorporation and granted authorization to commence business of the Tire Mat and Bi-Products Company Incorporated which would operate in Seattle, Washington.
The company was started by P.J. Swanson and Chas T. Lyons. Mr. Swanson had the first patent for a tire link mat and subsequent patents for product and machinery, which were assigned to the company in full consideration of all stock subscribed to him. He would be the first President of the company. Mr. Lyons would be the Secretary/Treasurer and the Plant Manager.
By June of 1923, the company was not doing well and found itself in receivership. In July, Chas T. Lyons purchased the company and all its assets out of receivership for $650.00. He then began a relationship with Howard Lyons and H.W. Bell to continue the tire processing and mat production and sales.
On July 25, 1924, a new company was formed – the Durable Mat Company Incorporated. Ownership was between Chas T. Lyons, Howard Lyons, and H.W. Bell initially and then Clyde Morris and Falcon Joslin purchased additional shares, providing the needed capital to continue the production and sales expansion of tire link mats. The company had established a base and was beginning to see a future.
Some significant milestones over the years:
1925: Howard Lyons traveled to New York City to establish an east coast office

1927: Licensed a Canadian company to produce tire link mats in Canada

1929: Established an Akron, Ohio manufacturing facility

1931: Began manufacturing Bow & Stern Fenders

1934: Acquired Pacific Patch & Accessory Company (Tire boots, patches, & reliners)

1935: Began manufacturing Placer Gold Riffles (used in the mining industry)

1941: Relocated the Akron, Ohio factory to Norwalk, Ohio (present day location)

1951: Began manufacturing laminated Loading Dock Bumpers

1955: Relocated the Seattle, WA plant to Santa Clara, CA

1968: Began manufacturing Wheel Chocks and Street Pads.

1973: Sold the Santa Clara, CA plant to Pawling Rubber Co.

1975: Began manufacturing Dura-Tile Flooring

1986: Developed Steel-Faced Loading Dock Bumpers

1987: Introduced Spectra-Shield Molded Loading Dock Bumpers

1998: Invented Dura-Soft Loading Dock Bumpers

2001: Acquired Columbus Foam Mat Division

2005: Acquired Quality Dock Bumper
The one common theme of our manufactured products throughout the years is the use of used bias-ply tires as our primary raw material. The original Tire-Link Mat, Fenders, Riffles, Laminated Loading Dock Bumpers, Wheel Chocks, Street Pads, and Dura-Tile flooring all are created from a used bias-ply tire.
Along the way we also became a master distributor of complementary items. Molded loading dock bumpers, molded wheel chocks, molded and extruded wall and corner guards, and a variety of matting products – entrance, carpet, runner, salon, industrial, anti-fatigue, safety, sports/fitness, and specialty.
Today we operate out of a single 98,000 sq. ft. facility on 11 acres in Norwalk, Ohio. We still manufacture 100% of our laminated loading dock bumpers here, which makes us the largest laminated loading dock bumper manufacturer in the United States.
To survive 100 years most definitely requires a group of dedicated individuals – our employees. And most importantly the right individuals at the right times of our journey. Our focus still remains to produce premium quality products with exceptional customer service.
Thank you to all of our customers, without you we wouldn't be here.
And thank you to all our suppliers, without you we couldn't consistently provide product quality and service.
To the next 100 years,
Tom Secor - President