Because we manufacture mats in a wide variety of lengths and widths, we usually have a stock product to suit just about any need. Although the vast majority of our customers order standard sizes, on occasion we receive a request for a mat with width measurements exceeding stock dimensions. In these cases, we seam or join two sections of mat together to achieve a desired custom width. The picture to the left shows the most popular mat we seam—our Diamond-Dek Sponge Mat.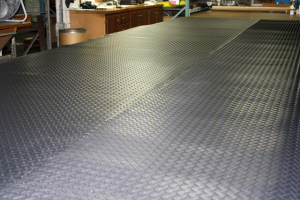 Custom Seamed Diamond Dek Sponge Mat
Seaming is a process used to glue two mats together. For this project, we started by cutting 4" to 6" from the roll to remove the bevels and square the edges to be joined. With these cuts made, the two sections of Diamond-Dek were butted together, and glue was applied to create a seam. Once the adhesive dries, we can then perform any special cut outs, bevels, or rounded corners requested by the customer. The finished product shown here is seamed from 4' wide Diamond-Dek material to make a 7' wide mat.
If your employees move from one work station to the next rather than remaining stationary in one spot, or your manufacturing cells require mats with custom configurations (e.g., L or T shapes), the mats created by seaming can provide continuous comfort over larger portions of the production floor. To learn more about our custom seaming capabilities used to achieve special widths, or to request a quote, contact the mat experts at Durable Corporation for more assistance.