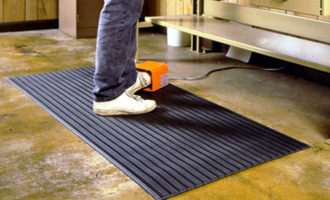 The human body is not designed to stand for long periods of time. However, there are plenty of jobs that require people to be on their feet for long stretches at a time. Fortunately, Durable anti-fatigue mats help keep people upright and energized throughout the day.
Why Workers Need Anti-Fatigue Mats
Healthy workers are more likely to be happy workers. According to a study by Workplace Products, it only took 90 minutes of standing for fatigue to set in for workers. Even more, workers experienced a drop in concentration less than an hour after standing. With rubber anti-fatigue mats, workers can:
Promote good posture
Increase productivity
Prevent joint stiffness
Reduce headaches
Lower back pain
Reduce foot pressure
Anti-fatigue mats help protect your workers and keep them feeling refreshed. Anti-fatigue mats are beneficial for more than just preventing long-term health issues, as well. Good mats can act as a guard against on-site slips, falls, and other accidents. Durable anti-fatigue floor mats can be used in wet and dry areas and can provide traction for employees that work in slippery workspaces.
Where You Can Use Anti-Fatigue Mats
If you have a workspace that requires a lot of standing, you should consider getting anti-fatigue mats. Industrial and retail workspaces are two big areas where employees are up on their feet all day.
Anti-fatigue mats are also useful outside of work as well. For example, rubber entrance mats are great for entry ways and exits to your back yard. Rubber kitchen mats provide support during preparation and cleaning. Adding a rubber floor mat by your work bench can give you extra energy to tinker away.
Rubber Mats That Keep You Refreshed
No matter where your work, anti-fatigue mats are a great option for people who are up on their feet all day. Contact Durable online or give us a call at 800-537-1603 today about ordering anti-fatigue mats for your work spaces.